T
he release VOGUE's September Issue signals a "change in the weather" of sorts in the fashion world. The minute that beautiful bible of fashion arrives in our mailbox, we know it's time to trade our bikinis for Birkins and our cut-offs for cashmere. It's an exciting time for laying luxe fabrics and experimenting with new shapes. This fall seems particularly alluring due to the wide range of options and looks that have been filling the runways.
PRADA
One major look we saw this season was the return to 1950's glamour. Prada showed us an almost futuristic
Tippi Hedren
complete with beehive hair and cable knit turtlenecks paired with leather pencil skirts. The look was wearable, yet edgy at the same time making it perfect for the working woman who wants to add a little wit into her closet.
Runway to Real Life:
Be sure to incorporate interesting fabric combination's into your look. Don't be afraid to pair leather with tweed. Play with the idea of timeless shapes with modern designs and color options. This will give you a look that's unique, yet still incredibly wearable.
DOLE & GABBANA
In classic Dolce and Gabbana fashion, the boys didn't shy away from body baring silhouettes just because it's fall. Lace and velvet adorned the leggy models who sashayed down the runway. Of course no Dolce & Gabbana show would be complete without their signature leopard print woven in throughout the looks. It was also refreshing to see the lingerie trend that was so present during spring stay with us a little longer.
Runway to Real Life:
It's important to make sure you don't take this look too literal. You don't want to end up looking like Brooke Shields in
Pretty Baby
. The key to pulling off a Dolce & Gabbana inspired look is all in the layering. Use your favorite lacy bra to add a little bit of sex appeal when it peeks out under a v-neck sweater. Feel free to also experiment with velvet, it can add a touch of luxury to any look.
BURBERRY
Perhaps the most influential trend this Fall is the Military look. Designer Christopher Baily at Burberry Prorsum did an exquisite job of making the military jacket look cool and chic. Knee-high boots were paired with lace frocks with structured jackets on top. Going along with the military theme, army green was also used throughout the entire collection, proving to be the perfect alternative to black.
Runway to Real Life:
This look is perhaps the most simple to replicate. Military pieces seem to be popping up everywhere from
H&M
to
Target
. Some brands are even re-mastering vintage army jackets and making them new again. To keep the trend current, be sure to always wear your military pieces with feminine counterparts such as dresses or skirts.
CAROLINA HERRERA
If forest green is the new black, Carolina Herrera proved red is giving it a run for it's money. Her runway show was filled with the "get noticed" hue. Red adorned the collars of her beautifully tailored coats and complimented her black velvet dresses perfectly. Besides the color scheme, Carolina also showed us some great menswear style looks that we can all appreciate. From fitted vests to billowy trousers, it was a wardrobe even
Annie Hall
would covet.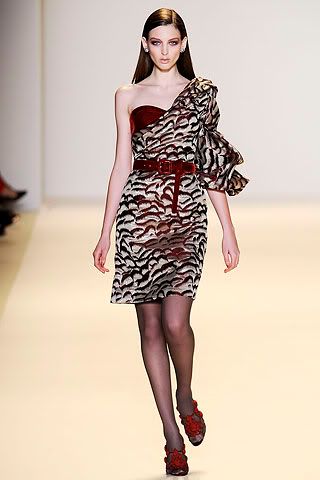 Runway to Real Life:
Adding red to your look can really make an outfit pop. Try cinching your waist with an oversized red belt or perhaps carrying a patent maroon bag to make a little black dress stand out of the crowd. You may also want to play with men's inspired pieces to pair with more feminine separates for a modern feel.
All Photo Credits: style.com