T
wo weeks ago my High school
sweetheart proposed to me at the Santa Monica Pier
. I can honesty say it was the most romantic day of my life as he set up the proposal by re-living our best dates. I have to admit that I had my wedding dress picked out a year prior to all this taking place and my sister and I had already decided on what color the bridesmaids would wear. But then again,
look whose style blog your reading.
We are getting married
August 7th, 2010 in Corona del Mar, California.
This is a very special date for us as it is the same date as when my parents said there vows some 22 years earlier. As my fiance and I are both discovering,
weddings are not simple productions.
One must consider everything from how many quests to what type of undergarments to wear under one's wedding dress.
The day after he popped the questions, I took my newly engaged self to a local bookstore to stock up on bridal magazines.
However, I found myself getting distracted by the latest addition of French VOGUE.
How typical. My fashion eye was caught by an amazing editorial spread in the June 2009 addition of VOGUE named "The Wedding Party". In the photos, model
Sasha Pivovarova
was styled impeccably with her new husband and family.
I'm sure as the months go by and the date approaches I will have millions of photos and magazine clipping scattered about.
Below are just a few ideas that serve as inspiration
for me as a bride-to-be. As always, I hope this insight is helpful to all my readers and arouses new creativity in their lives.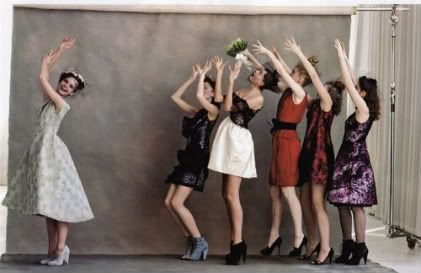 Photo Credits: VOGUE