"Elegance is refusal!"
These are the words of famous
Harper's Bazaar
editor, Diana Vreeland. In her prime, Vreeland was perhaps

the most influential woman in fashion

. Her taste was impeccable and her style unmatched. She became well known for her beloved column,
"Why Don't You ?"
, which was featured in the publication each month.

Her witty suggestions invited readers to embrace an unusual way of thinking in regards to personal style.
I have always admired the fact that
"Mrs. V"
always had her own unique opinion on how things should be done.

She consistently challenged the ideas of society and always did so with conviction and class

. I have included my own
"Why Don't You?"
list in hopes to inspire creativity and ideas within
my
readers.
"Why Don't You . . . ?"
By Miss Mae
Why don't you . . .
wear your favorite high heels . . . just because you love them?
spend the day getting lost in an art museum?
blast your "guilty pleasure" song on your way to work?
No one's listening.
slip into you sexiest lingerie . . . just for yourself?
spritz on your best perfume before you go to the supermarket?
laugh?
really listen to someone?
buy a vintage piece of jewelery from the thrift store?
wear red lip stick? You'll smile more.
dress up?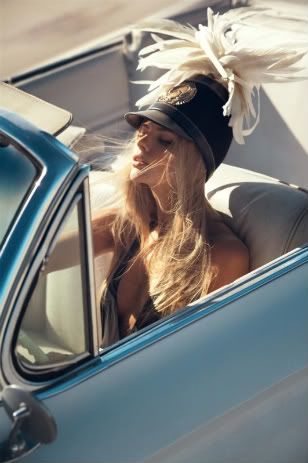 Photo Credits: Harper's Bazaar US, 08'