I was at work the day I heard of Alexander McQueen's death. The news was not so much shocking as it was simply tragic. It was no secret that Alexander was a troubled soul and seemed tortured by his talent.
At the time of it's creators death, the McQueen empire was at the peak of financial success, despite the ever shaky economy. Editors, celebrities and Lady Gaga alike were all fascinated by the fantasy world McQueen created with every piece he ever produced. It was the essence of extreme surrealism in his designs that kept the fashion world wanting a piece of the magic. However, not everyone would understand the world Alexander McQueen lived in, or the clothes he created.
It was common belief that Alexander was depressed and had been for quite some time. Most said it was his dark and "twisted" mind that influenced his outlandish ideas about how woman should dress. His clothes resembled armor and his studded platforms could be mistaken for weapons. McQueen's life was not pretty and neither was his work. Like so many other creative masterminds before him, he will be remembered as a leader in an industry that follows.
Read my comments on Alexander McQueen's death in the OC Register,
here
.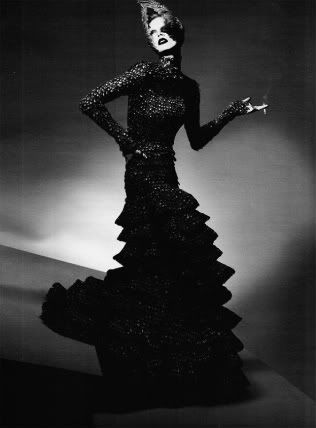 Malgosia Bela wearing Alexander McQueen Fall 2006. Photo by Mert & Marcus

.